Frequently Asked Questions

What services does Vermont Custom Concrete provide?
We provide only highest quality concrete installation and repairs for commercial and residential customers.
Epoxy Injection
Pressure Grouting
Industrial Coatings
Surface Preparation
Selective Demolition
Floor Re-leveling
Dustless Grinding
Concrete Core Drilling
Concrete Cutting and Sawing
[ Back to top ]
These include:
Driveways
Walkways
Patios
Colored Concrete
Exposed Aggregate
Light Excavation
Interlocking paver-bricks
Rockwood Retaining Wall Systems
Joint & Crack Repair
Epoxy & Polymer Rehab
How much does it cost?
The initial assessment and estimate are FREE. The work individually tailored to meet your need. Tell us your budget constraints and we are glad to provide you with a variety of options.
[ Back to top ]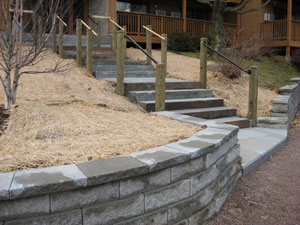 Why choose Vermont Custom Concrete?
Vermont Custom Concrete is staffed by highly skilled and trained employees that can install and service many concrete projects. We have the ability to meet the unique needs of our clients. We are certified for multiple requirements including OSHA and the American Concrete Institute. See About Us for more details and what our customers have to say about us.
[ Back to top ]
What geographic areas does Vermont Custom Concrete service?
We provide service and products to Vermont and areas of New York abutting Lake Champlain.
[ Back to top ]
What warranty do you provide?
Our warranty is simple. We want satisfied customers. So, we warrant our work to be free from defects and to meet the specifications provided in our proposal.
[ Back to top ]
How can Vermont Custom Concrete be reached?
For professional installations or repairs call us at:
Telephone: 802-893-6991 or 1-800-816-6991 (toll free)
FAX: 802-893-0742
Postal address:
P.O. BOX 119
Milton, Vermont 05468
Or click here for directions to our facility.
[ Back to top ]
Celebrating
25 Years!
For Quality Professional Installation and Repairs
Call or email for Your
FREE ESTIMATE